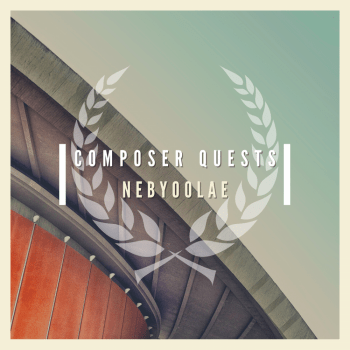 Composer Quest was a wonderful podcast created by musician and composer Charlie McCarron that ended a few years ago.

Charlie would often challenge listeners to so-called "Composer Quests", which involved composing/recording original works, sometimes with other people.

I'm a big fan of the podcast and the quests, and so I did a bunch of the them. These are the results.
| | | | | |
| --- | --- | --- | --- | --- |
| | 1 | Dog Eat Dog | Your browser does not support the audio element. | 4:26 |
| | 2 | Stand and Fight | Your browser does not support the audio element. | 6:24 |
| | 3 | Basso Amore | Your browser does not support the audio element. | 2:39 |
| | 4 | Awakening the Fall | Your browser does not support the audio element. | 2:59 |
| | 5 | Scriabin Measure | Your browser does not support the audio element. | 0:08 |
| | 6 | Mountain Ascent | Your browser does not support the audio element. | 2:35 |
| | 7 | O Canada (Dance Remix) | Your browser does not support the audio element. | 2:06 |
| | 8 | Table Tennis | Your browser does not support the audio element. | 1:17 |
| | 9 | Dusty Ant | Your browser does not support the audio element. | 0:36 |
| | 10 | Sybillance | Your browser does not support the audio element. | 1:48 |
| | 11 | Relay Race | Your browser does not support the audio element. | 2:02 |
| | 12 | Marathon Runner | Your browser does not support the audio element. | 2:52 |